Diagnostics & Medications : Hysterosalpingogram (HSG)
Hysterosalpingogram (HSG)
IVF FLORIDA Reproductive Associates has improved service delivery and convenience by adding radiology services to the list of services delivered on site. We perform hysterosalpingograms (HSG) in our Margate, Coral Gables and Jupiter offices, as well as at Northwest Medical Center and Memorial West Hospital. The addition of the HSG suite in our Margate Fertility Center means one stop location for all of a patient's fertility treatment needs - with the surgical suite and state-of-the-art laboratory all located at the Margate location. The HSG process is very simple and efficient - check in, have a pregnancy test, and have the HSG procedure all in one convenient location, without having to travel to a hospital. Our HSG service is faster, much less expensive, more convenient and potentially less traumatic than a hospital based study. Generally, our physicians can perform the procedure in 15 minutes or less, dramatically reducing the overall time of the procedure.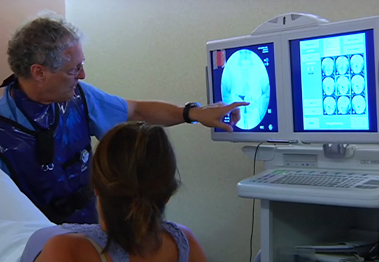 Video Feature
Hysterosalpingogram (HSG)
Watch Video

About the Procedure
Designed to detect blockages in the fallopian tubes, a hysterosalpingogram (HSG) is a fertility testing technique that involves the injection of a special dye into the uterus through the cervical opening. The progression of the dye is then monitored via x-ray. If there are no blockages present, the dye will fill the uterus, move through the fallopian tubes and out into the abdominal cavity. If a blockage exists, the dye will stop, indicating both its presence and its location.
A hysterosalpingogram can also be used to evaluate the size and shape of the uterus and detect such conditions as a bicornuate or septated uterus, both of which can cause recurrent miscarriage.
IVF FLORIDA physicians are specially trained to performed the required confirmation testing for permanent contraceptive devices such as Essure. To schedule an appointment for an HSG confirmation testing, contact your OB/Gyn physician or call us directly at 954.247.6200.