Patient Information : Your First Visit
Your First Visit
Making the decision to seek fertility treatments can sometimes be a huge emotional commitment, a commitment that some find difficult to make. At IVF FLORIDA, in addition to our world renowned physicians, we have put the processes and staff in place to make sure that when you are ready to make the commitment, we are here to make the experience the best it can possibly be. Whether you would like to be seen in a large, comprehensive office setting, or in a smaller more intimate setting, our multiple office locations provide the opportunity to select a location that is not only convenient but also fits your needs.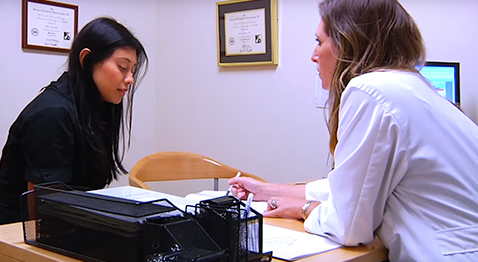 Video Feature
Beginning Fertility Treatment
Watch Video

IVF FLORIDA provides skilled and experienced support staff who are available to help you understand the fertility treatment processes as well as your insurance coverage and potential out-of-pocket expenses. We will work closely with your insurance company to best understand how your benefits can be applied to the diagnosis and treatment of infertility. In most cases, we are able to bill office visits and diagnostic tests to your insurance company. And when it comes to out-of-pocket fees, we offer a variety of payment and financing options.
Before your first visit, we may perform a complimentary insurance benefits verification designed to help you better understand what can and cannot be billed to your insurance company. Once we have investigated your benefits, we will contact you and explain what we have learned. Although we make the best attempt to obtain accurate information from your insurance company, there will be times when the information we are provided conflicts with how the insurance company processes the claims. Therefore, we cannot accept liability for inaccurate information and encourage you to verify our findings with your Healthplan or employer.
To help you best prepare for your first appointment, you will need to complete your new patient paperwork prior to your arrival. If you did not request a packet by mail, CLICK HERE to access the New Patient Registration forms. These forms include very important information about you, our organization, and our policies. Be sure to review and complete all seven (7) documents and bring them with you on the day of your visit, along with your photo ID, insurance card, and any prior medical records.
On the day of your appointment, you should plan on spending at least two (2) hours at our office. Please be sure to be on time for your appointment and allow plenty of time for traffic issues you may encounter.
New Patient Appointment Deposit Policy
Finally, since our appointment times are quite lengthy (approximately 2 hours), and include interaction with multiple staff members, we do require an initial deposit to secure the appointment. The typical deposit is either the amount of your copayment for office visits or $35.00 for our self-pay patients. The deposit is not an additional expense, and will be credited at the time of your visit. Should you need to change or cancel your appointment, we do require that you give us notice at least two business days prior to your appointment in order for your deposit to be refunded.