News & Resources
IVF FLORIDA Patient Story: Marline
April 25, 2023
Tell us about your journey to parenthood. 
Growing up, I loved the idea of having a large family and being around loved ones. Because of the interaction and relationships that existed between my siblings, cousins, aunts, uncles, etc., I knew I wanted a large family of my own when I became old enough.   
Never in a million years did I think the road to starting a family would come with unexpected twists and turns, and with a series of unfortunate events. I also did not think starting a family would take such a long time. It took 9 years of trying to finally conceive. It took another 6 years to get to the end of my fertility journey. All in all, my fertility journey lasted 15 years.   
As a business professional with a 20+ year career in management, finance, and leadership, I was leading a busy life while facing all the ups and downs associated with Infertility. I underwent fertility treatment while dealing with the workplace pressures that come with being a career woman. I got through the horrible emotional distress of pushing through pregnancy and infant loss while working. I also learned the difficult ways to genuinely embrace a fellow pregnant co-worker while experiencing my own daily fertility struggles in the workplace. I consistently juggled the hard-set deadlines imposed at work while literally running back and forth to the NICU and even forgoing a lunch or break to have a fertility procedure performed in secret. 
I am currently enrolled in school seeking a Doctorate degree. As such, I have been able to successfully decide to incorporate Infertility as part of my dissertation on women in leadership. Countless women experience Infertility while juggling a career and it is important to bring awareness to this phenomenon. 
My passion after facing, battling, and conquering infertility is to give back in a way that is helpful to women, men, and families currently on their own fertility mission. 
I must say, I was not sure what helping and giving back looked like. How do I even begin? I asked myself if I would even be able to make an impact and reach the actual people in need. In the midst of my planning on ways to bring my passion for helping to live, I diligently worked on turning my journal writings and entries into a published work that would serve as a valuable resource to infertility patients.   
On my journey, I looked into and underwent acupuncture treatments as recommended by my RE. Acupuncture is an Eastern (Chinese) medicinal approach to healing and treatment for various ailments. Fertility Acupuncture has been proven effective in a significant number of infertility cases. Whether a family wants to try naturally, there are treatments available for both men and women to help with reproductive functions. 
I received acupuncture before and during fertility treatments. Even while pregnant and when the pregnancy was threatened, acupuncture was a staple for me. I also sought the holistic route and dabbled in treatments offered by natural herbs, oils, reproductive yoga and massages, and natural teas.   
Undergoing fertility treatments for me ranged from minimally invasive options such as clomid tablets to mid-level invasiveness like intrauterine insemination (IUI) to the significantly invasive in-vitro fertilization (IVF).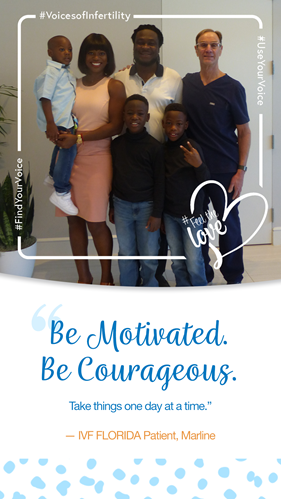 Tell us about your experience at IVF FLORIDA. 
My experience at IVF FLORIDA started in 2008 when I met with Dr. Hoffman. In 2009, he operated on me via hysteroscopy and laparoscopy after undergoing some diagnostic testing. 
We then embarked on our first IVF treatment in 2011. Unfortunately, after a successful cycle and positive pregnancy, we lost our daughter at 22 weeks 1 day. We tried again with a fresh IVF cycle as there were no frozen embryos remaining from that first successful cycle. That cycle resulted in the premature birth of twin boys in 2012. IVF FLORIDA was fantastic to both my husband and me during both of these trying pregnancy experiences. We then tried for a sibling for the twins and after two more cycles, we conceived via an FET cycle and welcomed our baby boy in 2018.  
Do you have any advice to share?  
Be Motivated. Be Courageous. Take things one day at a time. I learned that dealing with Infertility and then undergoing IVF treatments involves an abundance of "HURRY UP and then WAIT." As hard as it is, patience must come into play when on your fertility journey.
Try and seek out resources to help with the support aspect. It is important to have access to those who have been in your shoes as they understand and can provide the type of support needed during such a hectic time.  
Don't be shy about reaching out to your doctor and/or nurses. They are there to help you. Yes, they are busy but once you develop a rapport and the best way to communicate, you'll feel better after having heard back from them vs relying on Dr. Google or unsupportive family/friends who, quite frankly, may not know HOW to help you as they do not understand. 
Seek out relaxation methods such as acupuncture, therapy, massages, journaling, etc. If you ever feel uncomfortable about anything during your care, speak up and advocate for yourself.  
What were some highs or lows of your journey?
The ultimate highs of my story have to be the positive pregnancy/beta calls from the doctor after a cycle. That, in turn, means the lows include the calls I received indicating either the cycle was unsuccessful or the call to be cautiously optimistic after a low beta pregnancy test result. Those were not fun, but we got through them. 
Other lows included the side effects I experienced while cycling. I wish dealing with Infertility did not also come with bloating, nausea, hot flashes, weight gain, etc. Finding out the number of embryos that either made it to freezing or didn't was always nerve-wracking. 
My story holds some unique attributes in that although I beat the odds and had a successful cycle on the 1st round of ever doing IVF, I, unfortunately, lost our first daughter at 22 weeks due to IC, which I didn't know I had in addition to Infertility. That was just devastating and now serves as a couple of the aspects of infertility I focus on, living life after a loss and an incompetent cervix. 
Did any IVF FLORIDA team members provide outstanding care or support?
EVERYONE!!!!!!! I have to say I do not think I encountered anyone that was less than nice, empathetic, understanding, and courteous to my husband and me during my time of receiving Infertility treatments at IVF FL. Of course, Dr. Hoffman (Dr. H). Dr. Barrioneuvo was always fantastic and performed at least one, maybe even two of my embryo transfers. All of the medical staff, Erica, Barbara, Nadia, Judy in embryology, I mean everybody. The anesthesiologist was the same gentleman, and he always took care of me. Dr. Weitzman, Dr. Ory (retired), and Dr. Maxon (retired). How can I forget Lovely, Paula, and Amalia? They worked closely with Dr. H and I saw them at almost every visit for blood draws, results, etc. Oh, and the ultrasound techs were great! I hate to drop names because I may leave someone out but EVERYONE was fantastic! Oh, and Jen who always answered the main line and made sure I got through to someone when I called vs having to leave a voicemail.