News & Resources
IVF FLORIDA Patient Story: Marvia
April 27, 2023
Tell us about your journey:
Dr. Bou Nemer gave us hope when others told us to give up. She was always realistic and always spoke to us with statistical facts. She never allowed us to lose hope, and she mapped out different routes and told us: "This is going to be hard, but we are going to try fiercely." 
We felt that she really cared about us individually, as a couple, and as a family. She seemed really sad with every failure and really happy with our victories. When we finally got to the transfer stage, she told us, "You are in the best position to achieve this pregnancy, which is 60%" - honest but hopeful every time.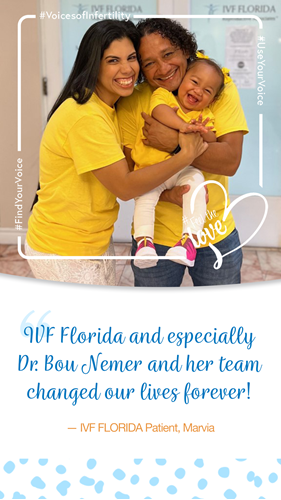 We started our fertility journey back in 2018. We were already a family of five, with my husband bringing to our family three boys from a previous marriage. They were in Venezuela, and when we finally got to bring them to the States, we knew we were ready to complete our family, hopefully with a couple of girls. We knocked on the door of a fertility facility to see the options of conceiving a girl, thinking that it would be an easy procedure. That's when my nightmare started, the first doctor we saw emphasized that it would be almost impossible for me to conceive even through IVF. She diagnosed me with diminished ovarian reserve. I was 34 at that time. We saw several other doctors looking for different opinions, but I never trusted anybody because the opinions ranged from impossible to you can get pregnant with the first cycle. Went I met Dr. Bou Nemer, I immediately knew I was in the right place. She was really caring, loving, and knowledgeable. She gave me answers no one had given me before. She is definitely smart and has a lot of expertise in the field. 
While waiting for our first cycle, we got spontaneously pregnant, but we lost that pregnancy as we were expecting to do the clinical hypothesis Dr. Bou Nemer gave us. Then our cycle got canceled due to COVID and delayed the process a few months. And when we finally could start we didn't have any viable eggs. 
But thanks to faith, love, and science, we fertilized three eggs and got two viable and normal embryos, and we were lucky enough to get both girls! One transferred on September 22, 2020, and the other on June 28, 2022. 
Now that both of my miracle babies: Aimee and Isla are earth side and our family is happily complete, I can only be thankful, eternally thankful to Dr. Bou Nemer, her team at Pembroke Pines and Coral Gables and all the IVF family. 
PS. our first baby is named Aimee Laurice after Dr. Bou Nemer, we love her! She is always going to have a special place in our family.