News & Resources
IVF FLORIDA Patient Story: Lindsey
April 26, 2023
Tell us about your journey to parenthood. 
Our first appointment was with Dr. Gualtieri in March of 2016. I was optimistic and probably very naïve about what I was about to embark into. I didn't know much about IVF, but I was convinced that my first cycle would work, and we would be pregnant in no time. This was the time that "fresh" cycles were a thing. You always wanted to get that Day 5 call. Well, we got a call on Day 3, and I just knew. We transferred two embryos. The cycle was a bomb, and none made it to freeze. I took that hard. We decided to take a year off and regroup.
I joined a support group leading into my second cycle. I was so amped. We changed my protocol, and I stimmed a lot slower and cleaner. Surprisingly, we always had great fertilization rates, but our embryos just grew so poorly. We had 17 eggs that fertilized. ONE made it to Day 5, and we did a fresh transfer – no go on that one! We had two from that cycle that made it to Day 6. Long story short, that turned into a chemical pregnancy and a blighted ovum miscarriage that made me very ill and it turned into a whole week of events. At this point, we really surmised my egg quality was the issue here and before doing anything else, I really needed to optimize my chances. I always had a lot of eggs at baseline – 55+, but we needed QUALITY and quantity.
I remember the day of my miscarriage and I was on the phone with Dr. G and just saying, "I will never be a mother." He assured me countless times that phone call and every day after that he would make sure this would happen.
Once things calmed down, I knew I had to make some lifestyle changes. I started keto, lots and lots of vitamins/supplements, and was so careful about everything that entered my path. I geared up for our final retrieval. We agreed at this point that this was our last go at it – for our mental health, financial health, and overall quality of life. I was tired and missed "me". I was consumed with making this work. Something just kept telling me to keep going.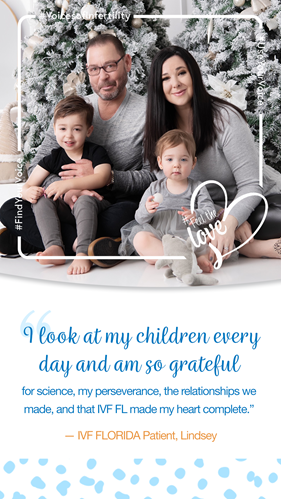 We retrieved 30 eggs and again, 17 fertilized. Most would get excited, but I just had this constant pit waiting to see how they would grow. I got a call that three made it to day five. I was bummed. Dr. G was not – he had all the confidence that these three would result in PGT normal.
I was at work and got a text that said, "I wish you could see the smug look on my face right now." We had THREE NORMAL EMBRYOS! We had a chance now. This was the big moment and break I had prayed and prayed for.
We did lots of ERA's (six total! It was like Goldilocks trying to get the right size biopsy piece), bloodwork, etc. I had a chemical pregnancy with our first embryo. But the last two…they are my heart and soul walking outside of my body. Owen was born on 7/3/19 and Molly was born (two months early!) on 7/1/21. Both my children keep me on my toes, and I have never felt so much love and peace in my life.
I am so happy that we kept going, and kept fighting. I look at them every day and am so grateful for science, my perseverance, the relationships we made, and that IVF FL made my heart complete.
Do you have any advice to share?
Seek support. There are so many of us going through this and too many keep quiet. Infertility is rampant! I was at a birthday party for my daughter recently. Some of the moms got to talking. There were two other toddlers there (that I know of) that were IVF FL babies. How cool is that?!
Did any IVF FLORIDA team members provide outstanding care or support?
Obviously, my doctor, friend, and therapist 😊 – Dr. Gualtieri. My amazing nurses, who held my hand for over five years: Erica, Megan, and Ilene. My favorite ultrasound tech – who always listened and was there for me: Jenn.